Placement Oriented Aptitude Training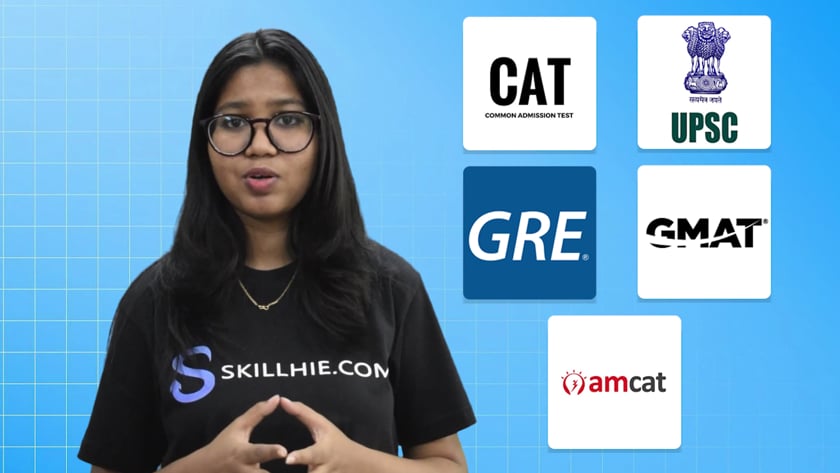 The two keys of a successful career: logic and reasoning, grab them and unlock your success.
Assessment & Certifications
This course focuses majorly to crack aptitude and reasoning test for top MNCs and in the IT industry. Modules in this course are systematically designed for a better understanding of concepts with theory along with problems related to each topic. In this course, you will be able to attempt several quizzes for practice and increase the speed of your problem-solving and logical reasoning skills. Let's get started to power up your aptitude!
Skills in the course, that helps you apply what you have learnt.
This skill is mainly focuses on the logical ability for you to solve the given problem.
This skill mainly focuses on your Math and Quantitative ability to solve any given mathematical problem.
This skill focuses on improving your visual and interpretation capacity for the given data or data sets.
Top companies in need of this skills
Joseph K
Skillhie Member
As I was a Skillhie member I was able to get a benefit of 12 additional new courses are available every month. It's like a an add-on bonus pack.
Charitha Rani
SkillHie Member
My prior interest was towards Machine Learning, but due to the access of all courses because of my membership has shown me other fields of interest which I never knew on my own.
Shashank Kumar
Skillhie Member
I grew more confident when I was able to share and explain my projects to my colleagues and supervisors which helped me to get an instant feedback, all thanks to Skillhie membership.
Will I get access to future releases of track and courses, If I take membership now?
We are happy to see your budding interest in our future courses. Yes! You need to have active membership plan to access any releases.
Can I upgrade the membership plan later ?
Yes, You can upgrade the membership plan later, By reaching us at support@skillhie.com
How does one get placement and internship assistance?
The Skillhie partners with different companies which helps us to conduct virtual and offline placement drives. You are informed regarding the drives using Skillhie forums.
What extra benefits will I enjoy as a Skillhie Ultimate member?
The extra benefits that you will enjoy as a member include virtual Hackathons, workshops, career and placement guidance along with the seminars from leading industry experts.
Do we receive seperate certification for each course that we complete?
Yes, each course has its own certification and Specialization comes with a separate certification.
What happens if the membership charges change during our tenure.
There won't be any effect on you, you will be charged the same amount with which you were charged at the beginning.
Let's understand how things work at Skillhie and how being a Skillhie Member will help you to secure your future.